This document provides details on usage reporting including:
What is usage reporting?
Usage reporting is a feature in Haventec Console that enables you to view and download usage data for your organisation for billing and analysis purposes. Usage data is available by application (or across all applications in your organisation) for the specified reporting period.
Who should use usage reporting, and why?
Usage reporting enables organisation administrators to track usage of Haventec products so that they know when usage is approaching any usage limits. It also enables an organisation to understand their billing to reconcile charges against their usage.
Also, analysis of the usage data can provide various insights into how the authentication platform is used over time. It can be used to track trends, detect spikes and quiet periods, and other such things.
Where do I start?
In the Haventec Console menu, click Usage.
The Usage Dashboard Overview page is displayed.

The page comprises several sections:
In the topmost section, you select the required application and date range.
In the View Usage section, the usage data is displayed for eight data items.
This is followed by the main User Activity graph which shows the number of successful logins, failed logins and PIN resets for the selected application and period.
This may be followed by the Data Log, if it is requested.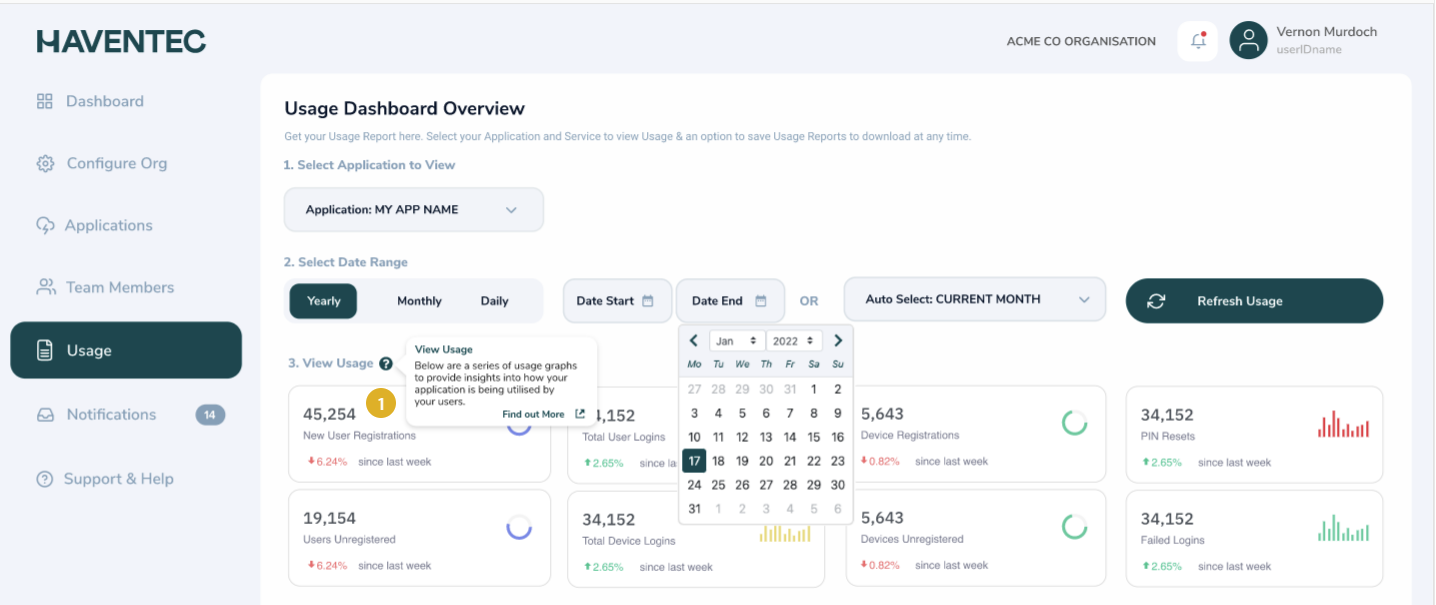 How do I use usage reporting?
1. Select an application for which to view the data

Select ALL APPLICATIONS to show usage data across all applications (this is the default value) OR
Select from the dropdown menu the name of the application for which you want to show usage data.
2. Select a date range

Select Yearly to specify a start year and end year.
Select Monthly to specify a start month/year and an end month/year.
Select Daily to specify a start date and an end date.
Select the reporting period:

Use the drop-down calendars to select Date Start and Date End to show usage data for a particular period.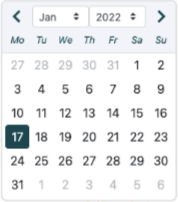 OR
Select an Auto Select option:

CURRENT MONTH: Show usage data for the current month (month to date) (this is the default value).
LAST 3 MONTHS: Show usage data for the previous three months.
LAST 6 MONTHS: Show usage data for the previous six months.
LAST 1 YEAR: Show usage data for the previous year.
NOTE: The usage data will update automatically when a date range changes.
3. View the usage data


Click

to display brief information about the usage data section.
Click Find out More for further detail.
User Activity graph
User activity is also shown on the main User Activity graph for the following items:
Number of logins
Number of PIN resets
Number of failed logins

User activity can be downloaded into several file formats, for example, a csv file. To do this, click Download Selected Usage and then select the file type and file location.
Data log
The Activity Log displays all event invocations of the Authenticate APIs. This includes login, add device, add user, OTP events.
To view the data log, click Show Data Log Below.
The Data Log section is displayed.
The Data Log section can be toggled on and off.
Click Details next to the relevant event to view further details about the event.

Related documents