Customer Support via Zendesk Overview
Zendesk is Haventec's Incident management software. It combines people, processes, and technology, allowing for systematic tracking and incident and enquiry management. This solution, complete with its own knowledge base, help identify the problem and that the root cause of each customer's request is quickly resolved.
How do I create a Haventec Support Center account?
Customers can have an account in Zendesk created for them by Haventec or request an account, further information on this has been provided here.
How to Raise a Zendesk Ticket
Introduction
Should you experience an incident or have a query on one of our products you raise these via our online support center at Zendesk.
Incidents - where you have or find a defect or issue with one of our products. For example, an incident request: User unable to authenticate, getting an 'invalid username and password error'.

Information requests / query - where you require information, advice or answer to a question for one of our products. For example, an information request: what details do I enter into Console IAM introspect URL?
Step by Step Instructions
Login to Zendesk

Select Submit a Request from the top menu navigation
Figure 1: Example of location of the Submit a request menu item

3. Zendesk will present a form for you to complete. Please provide as much detail as possible to assist us in understanding the issue you are experiencing or to enable us to best respond to your enquiry.
Figure 2: Example Submit a Request form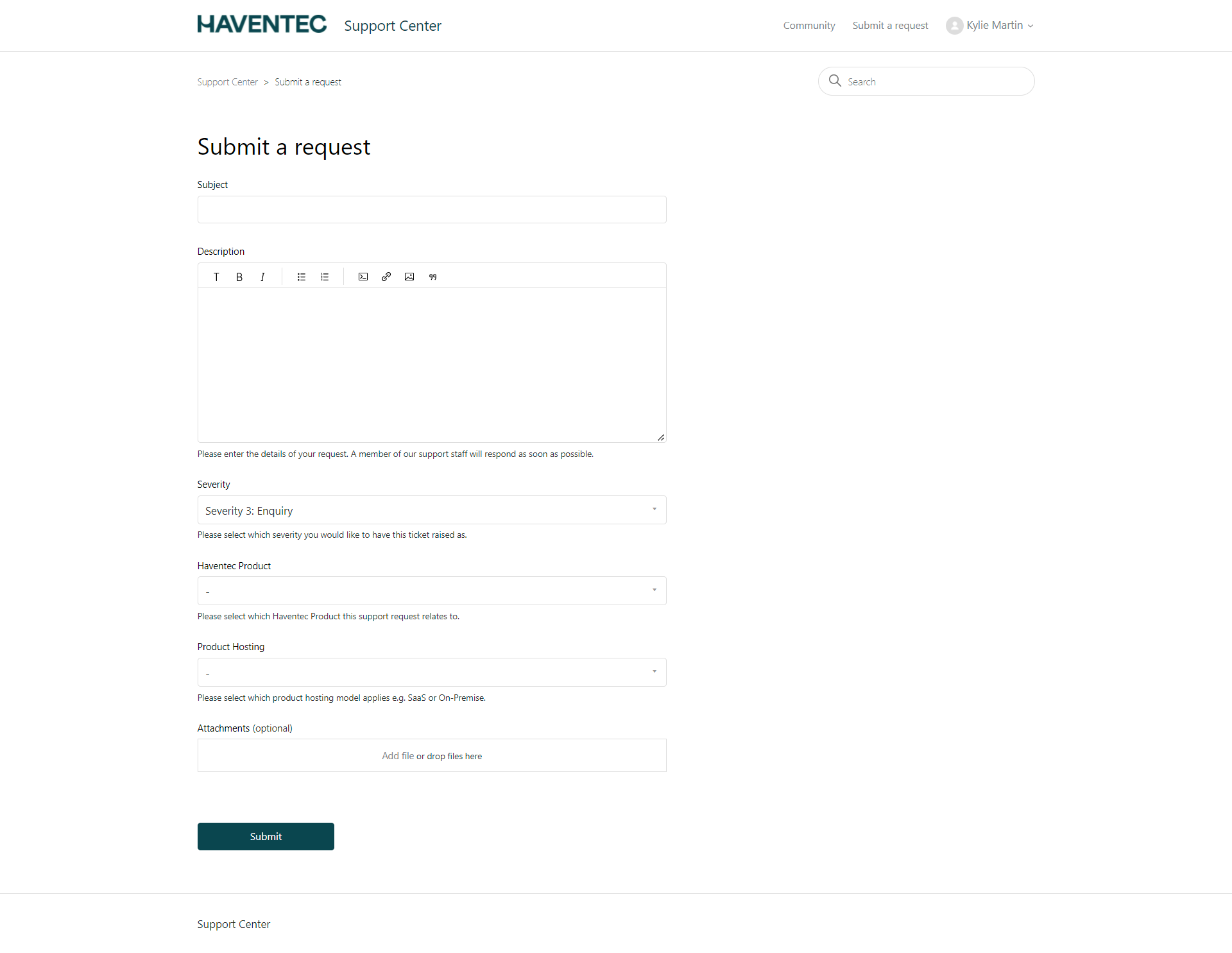 Subject: Make your subject a clear description of the issue or request. For example: "[feature] produces [incorrect result / error] when a user [does what action]

Description: Please provide a description of the issue or enquiry. Please consider including;

Issues / Incidents:

what you think it should do

what the unacceptable or deficient result was

if the issue is an error dialog message, provide the exact information presented by the application, either as text or via a screenshot as an attachment

A list of steps the support or development team can use to replicate the issue. Even if your issue is intermittent or unpredictable, an attempt to provide context for something like a random crash makes it easier to find where the issue is.

Any configuration information you can easily determine is applicable (OS version, application version, unique configuration options)

Enquiry:

Please enter the details of your question/s. Include as much information about which product and if undertaken a certain step or configuration where you are up to in the process or on what screen.

Severity: Please select which severity you would like to have this ticket raised as.

Severity 3: Enquiry - For when you have a question on one of our products or require 'how to' help

Severity 2: Minor Incident - All other incidents that are non critical in nature.

Severity 1: Critical Incident - Highest level issue. eg loss of product availability, ie. a service outage or extreme performance degradation

An incident becomes Critical or Severity 1 incident if all of the following are true.

There is a complete loss of access to an essential function of an application or service
The incident has a high impact to the customer's operations
There is no acceptable workaround

Haventec Product: Please select which Haventec Product this support request relates to.

Product Hosting: Please select which product hosting model applies e.g. SaaS or On-Premise.

Attachments (optional): Please attach any screenshots or further information that would assist us in our response to you.
4. On completion of the fields please select the Submit button to lodge your incident or enquiry. A member of our support staff will respond as soon as possible.